Prakash Otharam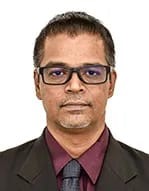 Prakash was called to both the Singapore and New South Wales Bar associations and served as a prosecutor with the Attorney-General's Chambers for about a decade before his appointment as an Assistant Director (Legal Department) with the Health Sciences Authority. Prakash's passion to practice law, which has grown over the years, and his desire to serve the community in his own right, have led him to join Kalidass Law Corporation.
During his career as a prosecutor, Prakash has amassed vast legal experience through the conduct of his many trials and numerous plead-guilty mentions, with several of them garnering media coverage.
Prakash completed his Master of Criminology at the University of Sydney, and the New South Wales Bar exams at the College of Law (NSW), after graduating with Bachelor of Law, Bachelor of Business Administration and Bachelor of Science degrees.
Having knowledge, certification and professional experience covering a mélange of industries, Prakash is able to apply best practices he has observed and developed over the years in a range of cases he now manages. Furthermore, his cross-industry experience enables Prakash to view issues from multiple perspectives.
Prakash is client-centric, and he is driven with a sincere dedication to achieve the best possible outcome for his clients while balancing his duty as an officer of the Court.
In the manner he manages his cases, Prakash has proven himself to be a genuine proponent of not only the letter but also the spirit of the law.