Nithya Devi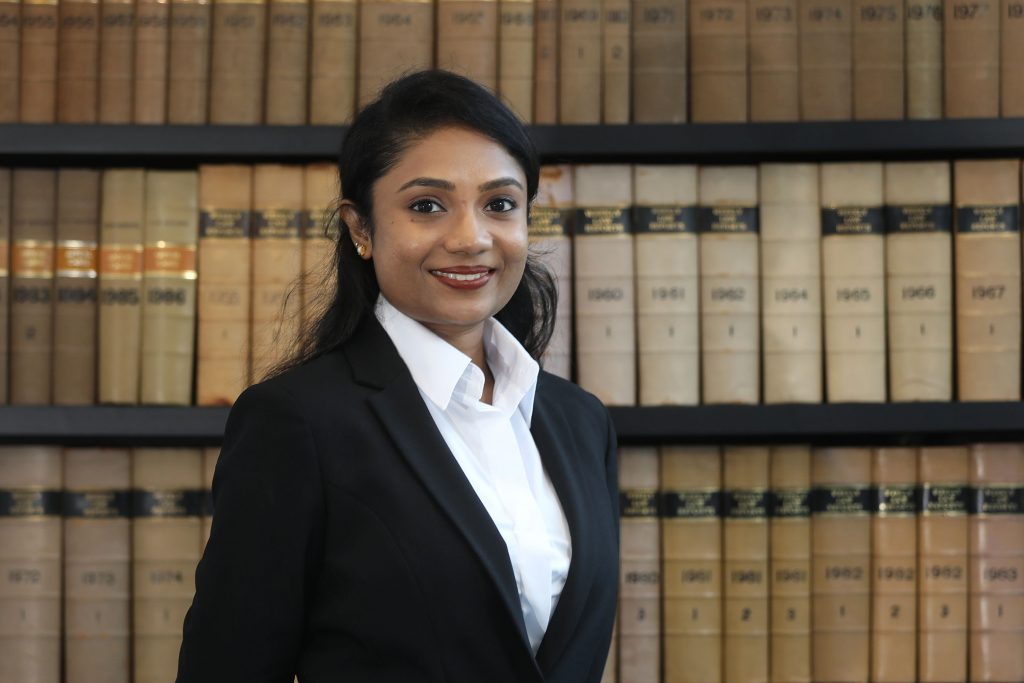 Nithya's area of practice encompasses family law, wills and succession and criminal defence. She advises and represents clients in all aspects of family law including annulment, separation, divorce, maintenance, child custody and access, and family violence. In accordance with the Family Justice Courts' renewed vision of therapeutic justice for family disputes, Nithya is committed to a conciliatory and constructive approach. She is a strong advocate for mediation of family disputes and takes a concerted effort to protect the interests of vulnerable parties. 

Apart from family matters, Nithya has experience in State Court and High Court criminal cases involving a spectrum of offences such as moneylending, cheating, theft, harassment, human trafficking and drug offences.

Pragmatic yet empathetic, Nithya believes in ensuring that justice is within reach of all. A volunteer lawyer for the Legal Aid Bureau and the Criminal Legal Aid Scheme by the Law Society Pro Bono Services, Nithya has a strong commitment to pro bono work. Nithya works with AWARE to provide pro bono legal advice for women who experience marital issues and harassment and family violence. Nithya has also featured as a guest speaker for Oli 96.8 FM's legal segment, through which she raises awareness on key legislation and provides free legal advice to members of the public.

In 2022, Nithya was appointed by the President of Singapore as a Panel of Advisor to the Youth Court, where she plays an important role in advising the Youth Court on matters relating to children and young persons.

Testimonials
"In transitioning through an episode of an ever-changing world, I seek professionals not only for their experience but also their ability to understand my personal situation. Nithya is one such professional. I require someone who will listen to my questions and provide answers in words I understand. Nithya is that someone. My circumstances required respect for the loss of my marriage along with genuine care and compassion while assisting me in putting my affairs in order. More than once, Nithya went the extra mile and was always there for me above and beyond our client/lawyer relationship. It is my pleasure to recommend Nithya as a very qualified attorney who can handle your unique situation."

"Since March 2020 I have engaged Nithya as my lawyer to handle my divorce case. Nithya has shown much patience and compassion, also being a good listener along with providing options and relevant advice based on her experience. I appreciate her professionalism to follow up promptly with me even when I am in overseas. She makes sure on getting the right detail, leaving no stone unturned. She strives to understand the personal aspects of the client during discussion while carrying out her job, helping to ease the discomfort of her client during a difficult time. I would not hesitate to engage Nithya to take on my other legal matters in Singapore and would like to recommend her good self to people that I might come across who require legal advice."

"I was fortunate to have met Nithya and have her as my defence attorney. She is earnest, helpful without compromising on standards of professionalism. I was impressed by her attention to detail, and her willingness and patience to explain technical legalese to me. On a personal level, she also took time to listen and come to understand my unique circumstances, which she then reflected in the representations for me. She was meticulous, but also managed to convey my circumstances with palpable empathy. I also appreciate that she welcomed my feedback and input. I am grateful for Nithya's dedication to my case, and the subsequent outcome, which was what we had hoped for."

"Nithya is a thoroughly diligent lawyer and she provided me very practical advice on different stages of my case and her services were really impeccable. Highly recommend her for any legal work."

"She has helped through in my tough times, and gave clarity on what are the processes legally. Because of her constant support and contact, I felt mentally strong and well informed."